Printed from: www.korogodon.com
As Manufacturing Stumbles...
In February 2016, the Institute for Supply Management (ISM) manufacturing index improved to 49.5, a 1.3 percentage point increase from the 48.2 reading in January. Even so, a reading below 50 generally means that manufacturing activity is contracting, and February marked the fifth straight month in contraction territory — a trend that hasn't been seen since the Great Recession.1
Economists and investors pay attention to manufacturing data not only for information about the health of U.S. factories but also for clues about demand in the broader economy. Manufacturing contractions have often been linked to economic recessions, but the U.S. economy grew at a 2.4% annual rate in 2015, despite a manufacturing "recession" that made some observers uneasy.2–3
In fact, a comparison of two different ISM composite indexes illustrates how a thriving service sector has helped the U.S. economy weather troubles in the manufacturing sector.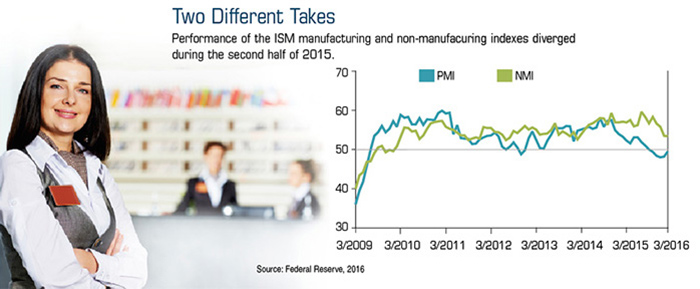 On the Bright Side
The ISM Purchasing Managers Index (PMI) follows changes in production, new orders, employment, supplier deliveries, inventories, prices, and other measures from month to month. It generally represents current business conditions for the manufacturing sector.
In contrast to the PMI, the ISM Non-Manufacturing Index (NMI) signaled expansion (53.4) for the seventy-third straight month in February 2016, albeit at a slowing pace.4 The NMI tracks similar data (business activity, new orders, employment, etc.) for non-manufacturing industries that make up the larger service sector of the U.S. economy.
Service Economy Shift
These days, the manufacturing industry accounts for only about 12% of U.S. gross domestic product (GDP) growth, down from around 25% as recently as the 1960s.5 Manufacturing is not only a smaller part of the U.S. economy than it used to be but also employs fewer U.S. workers.6
During World War II, more than a third of the U.S. workforce held manufacturing jobs, but this share fell to 20% by the 1980s and then to less than 10% during the Great Recession.7 Corporate outsourcing and investments in new technology (including automation) are two longer-term trends that have played a role in reducing the number of factory workers in America. Service-sector employers, on the other hand, were responsible for 90% of the 2.6 million new jobs created in 2015.8
Challenges Remain
U.S. manufacturers have been hit hard by a strong dollar, which makes their goods more expensive overseas, and by domestic energy companies struggling with low oil prices. The nation's factory production was a disappointing drag on U.S. growth in 2015, but it could rebound if consumers increase spending to offset weaker global demand. Service industries are expected to continue leading U.S. GDP growth in 2016.9
Both the PMI and the NMI are based on data from monthly surveys of hundreds of purchasing and supply executives from across the country. Increases are generally considered good news because they point to the potential for higher corporate profits and stock prices.
Key economic indicators can help businesses and investors make more informed decisions. But keep in mind that the financial markets may occasionally overreact to positive or negative reports, especially when the results are surprising.
1, 4) Institute for Supply Management, 2016
2, 5) U.S. Bureau of Economic Analysis, 2016
3) MarketWatch, January 29, 2016
6–7) The Wall Street Journal, January 28, 2016
8) USA Today, January 6, 2016
9) The Wall Street Journal, March 1, 2016
The information in this article is not intended as tax or legal advice, and it may not be relied on for the purpose of avoiding any federal tax penalties. You are encouraged to seek tax or legal advice from an independent professional advisor. The content is derived from sources believed to be accurate. Neither the information presented nor any opinion expressed constitutes a solicitation for the purchase or sale of any security. This material was written and prepared by Emerald. Copyright 2016 Emerald Connect, LLC.